Verizon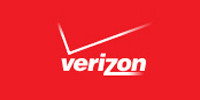 Verizon Communications, Inc., is an American broadband and telecommunications company, the largest U.S. wireless communications service provider as of September 2014,and a corporate component of the Dow Jones Industrial Average.The company is based at 1095 Avenue of the Americas in Midtown Manhattan, New York City,but is incorporated in Delaware.

What eventually became Verizon was founded as Bell Atlantic, which was one of the seven Baby Bells that were formed after AT&T Corporation was forced to relinquish its control of the Bell System by order of the Justice Department of the United States.Bell Atlantic came into existence in 1984 with a footprint from New Jersey to Virginia, with each area having a separate operating company (consisting of New Jersey Bell, Bell of Pennsylvania, Diamond State Telephone, and C&P Telephone).

As part of the rebranding that the Baby Bells took in the mid-1990s, all of the operating companies assumed the Bell Atlantic name. In 1997, Bell Atlantic expanded into New York and the New England states by merging with fellow Baby Bell NYNEX. In addition, Bell Atlantic moved their headquarters from Philadelphia into the old NYNEX headquarters and rebranded the entire company as Bell Atlantic.

In 2000 Bell Atlantic merged with GTE, which operated telecommunications companies across most of the rest of the country that was not already in Bell Atlantic's footprint. Bell Atlantic, the surviving company, changed its name to "Verizon", a portmanteau of veritas (Latin for "truth") and horizon.

As of 2016, Verizon is one of three companies that had their roots in the former Baby Bells. The other two, like Verizon, exist as a result of mergers among fellow former Baby Bell members. One, SBC Communications, bought out its former parent AT&T Corporation and assumed the AT&T name. The other, CenturyLink, was formed initially in 2011 by the acquisition of Qwest (formerly named US West).