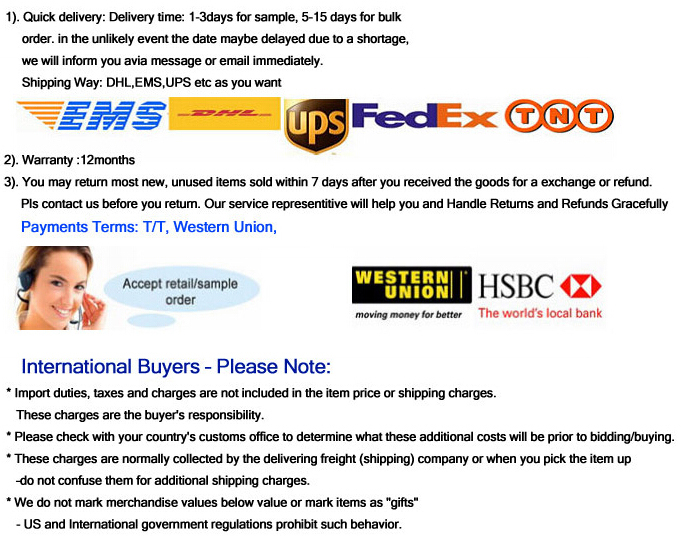 We provide the following services to customers all over the world:
Refurbishing service for all branded mobile phone
We offer professional refurbishing serice of branded mobile phone, like Nokia, Motorola, LG, Samsung...etc. With rich experence, professional equpment and strictly QC team, our high level refurbishing service can make used cell phone to be renewed like original brand new.
Product design and selection (OEM & ODM)
Buyers who face strict time to market and want to lower cost can use our pre-designed and time-tested OEM products with minimal changes. Large clients with sophisticated product and design requirement can use our additional ODM services to meet their needs.
Product sourcing
We introduce new and innovative products to market in the shortest possible time. We are adding new products daily, and constantly updating product descriptions and discount prices.
Taking advantage of our unique geographical location, E-commerce platform, highly visible sourcing platform and effective price negotiation strategies, we help buyers source desired products out of innumerous items in the huge Chinese electronics market. In this way, buyers can get quality products within short time limit and at competitive prices. Just inform us what you are looking for and leave the remaining issues to us.
Custom-designed service
We offer custom-designed services, which include but not limited to custom logos, packaging, software, firmware, casings, printed circuit boards, accessories, chipsets, other hardware designs, user guides and other printed materials.
One-stop logistics service
With solid business ties with logistics service providers and rich experience in international trade, we offer one-stop logistics services ranging from logistics agent selection, shipping route optimization, prompt delivery to shipment tracking. We try every possible means to constantly follow up order fulfillment to minimize delivery time and cut down logistics cost for buyers.
Our mission is offering services quality. We believe that the survival and the prestigious image of the company are based of the acceptance from the customers.